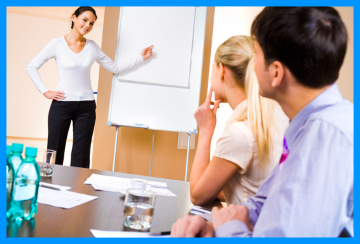 Learn how to prepare and deliver effective training courses with our Train the Trainer Training Course.
Find out how to put structured lesson plans together and the basics of designing training sessions.  Understand the structure of a training course, then look at and practice the skills behind delivering a highly effective and engaging training course.
Get feedback from your trainer and colleagues on your delivery and prepare to head back and deliver effective training courses with our train the trainer training course.
Course Aims
To provide you with a solid foundation of skills and knowledge on the process of learning, the role of the individual trainer and issues of importance when working with groups.
Course Objectives
By the end of the session, attendees will be able to:
Clearly identify the requirements of your training role
Write appropriate training objectives
Identify appropriate training materials and structure content to meet the objectives and needs of the audience
Select and utilise effective visual aids to support your training sessions
Confidently deliver effective training sessions
Overcome difficult situations or problems which may occur during training sessions
Evaluate the effectiveness of your training against pre-determined objectives
Course Content
An Overview of Learning Styles
Qualities of Effective Trainers
Training Techniques
Perception
The Importance of Questions
Visual Aids
Creating a Lesson Plan
Structuring a Training Session
Running a Training Session
Handling nerves
The Importance of Evaluation: Before, During and After a Course
Giving Feedback
Action Planning
Course Benefits
Engage people in the learning process faster
Ensure training sticks when people leave the training room
Trainers that are more rounded consultants and not just trainers.
Who should Attend
For those who have little or no previous experience in designing and delivering training events or need to teach/support others 1-1 or in groups to develop their skills.
Session Breakdown
The Training Cycle
Introduction to the stages of the training cycle
Trainer Skills
The skills required to train and develop people
Behaviours and attitudes of effective trainers
First impressions and perceptions
Preparing for the session
Understanding the needs of your customer or audience
Writing effective learning objectives
Structuring an effective training session
Choosing the right location and equipment
Delivering the Session
Getting of to a good start
Using visual aids and training aids
Getting the group involved
Different approaches to use
Dealing with difficult people
Closing the Session
Checking understanding
Motivating people to take the learning with them
Skills Practice
An opportunity to practice the skills
Our Train the trainer Training Course is only available as an in-house course.  See the in-house tab for more information.
We can deliver our Train the Trainer training course in-house to a group of up to 12 people in your organisation.
We can tweak the course content to align it closer to your business needs.  The Train the Trainer training course will be delivered by one of our professional hand picked trainers who will provide the skills and knowledge and allow plenty of time to practice the skills.  They will also ensure that everyone leaves with an action plan that details what they will do next.
To find out more about having a Train the Trainer training course delivered in-house at your business, fill in the form below and we'll get back to you.  Be sure to tell us what course you are looking for and in what location.  Alternatively you can call us on 03333 444575.
Download a copy of the train the trainer training course overview by
clicking here
.