Estimated reading time:
3 min
Background
In this article, we look at how to create a RACI Matrix. A RACI matrix is a tool used in project management to assist with delegating tasks and supporting effective communication.
This simple to use project management tool can save time and effort when it comes to organising resources and understanding who needs to be communicated to and what communication they need.
Outside of project management, a RACI matrix can also be used for day-to-day tasks.
What is a RACI Matrix?
A RACI matrix is a simple grid where you can capture the details of who is going to do what task in a project. It also supports effective communication within a project. It can form part of an overall project plan or be used as a standalone tool.
RACI stands for:
Responsible – This is the person who will carry out a task
Accountable – This is the person who holds the accountability for the task and is usually the person who delegated the task
Consulted – This is a person who you bring into the task for advice, guidance or sign off
Informed – This person needs to be updated on progress or told when the task is completed
Responsible
The R in a RACI matrix stands for responsible. This is the person who is responsible for carrying out a task. The project manager or team leader will effectively delegate the task to one of the members of the team and that person will take ownership of completing that particular task.
The project manager will set constraints that they can work in, but essentially the decision making is handed over to the person responsible with the project manager agreeing on times or milestones when they will meet to discuss progress.
Accountable
The A in a RACI matrix stands for accountable. This is the person who is answerable to the project stakeholders for the tasks in the project. This is usually the project manager but essentially is the person who delegates tasks.
They are accountable for their decisions on who they have delegated to and will answer to the project stakeholders and sponsor if for any issues or delays in completion.
Consulted
The C in a RACI matrix stands for consulted. These are team members or stakeholders who will support decision making in relation to a task. Those consulted may also need to provide sign-off to a task before it can be described as being completed. This may be someone internal to the organisation or a 3rd party such as a local authority.
Informed
The I in a RACI matrix stands for informed. These are people who require updates on the progress of a task or need to be informed of its completion. Again, these could be stakeholders or the wider organisation. They will have no influence over decisions, they solely need communication from the project.
How to Create a RACI Matrix
A RACI matrix is a simple grid. It has tasks down the left side and the members of your project team across the top. The boxes that are created from the grid is where we will add our RACI letters.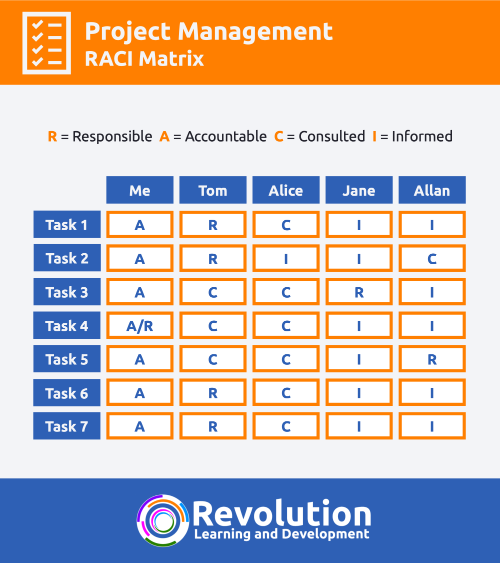 We work systematically through each task and consider the role of each person in the team in relation to each task. When doing this, we need to take into account:
Each task needs an accountable person and a responsible person
Only 1 person can be accountable for a task
The same person can be both accountable and responsible
2 people can be responsible for 1 task (if this is the case, you should clearly define their individual roles or split the task in two and make each person responsible for 1 task each.
You don't need to fill every box in a line
What to Do With a RACI Matrix
Once your RACI Matrix grid is complete you should then:
Delegate the tasks to those who are responsible for them. Be sure to use effective delegation
Create additional steps in your project plan for consultation. Essentially, this becomes a new task
Add all of the details of those that need to be informed into a communication plan
Further Learning
To learn how to create a RACI matrix and more about project management skills, take a look at our Project Management Training Course for more details.